With author talks, the audience just listens. With writing workshops, they participate in writing exercises to hone their skills. As a result, they are primarily aimed at people who want to write for fun and/or publication. This article is aimed at workshops for adults. If you are organising one for your school, you will find our
school visits
page more helpful.
Choosing your speaker
Before you start contacting authors, look at your potential audience. Are they writing for children or for adults? Are they concentrating on fiction or non-fiction? Are they already published, trying to get published or just beginning to write creatively? This will help you pick out suitable speakers and help decide what to talk about and which activities to use. You'll find more advice on choosing and booking speakers on our
booking an author
page.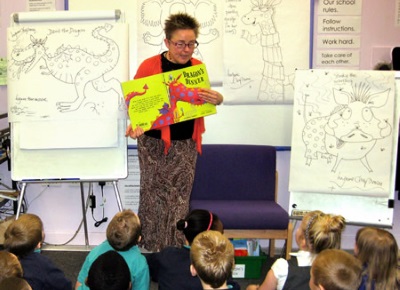 Timing your event
Workshops often last longer than talks, so a Saturday or Sunday can be a better time for your event than a weekday evening. Daytime workshops are easier for people who have to travel a long distance and have the advantage of participants not being tired after a day at work.
Before the Event
Plan as far ahead as you can so you have plenty of time to publicise the event. Book your venue straightaway and, if you're using someone's house, make sure you have an alternative up your sleeve in case they have a family crisis at the last minute.
Catering
If it's an all-day event, you'll have to do something about lunch. Catering for everyone is a big task so don't take it on unless you really want to. The easiest solution is to ask everyone to bring a packed lunch. Alternatively, for a small group meeting in a house, you could have an American lunch with everyone bringing a dish to share. Either way, remember to provide something for your author. Unfortunately, some venues won't let you bring your own food so you have to use their in-house caterer. Buffets work best, but make sure there are vegetarian options and that there is something for those who don't eat cheese (many people find it triggers migraine).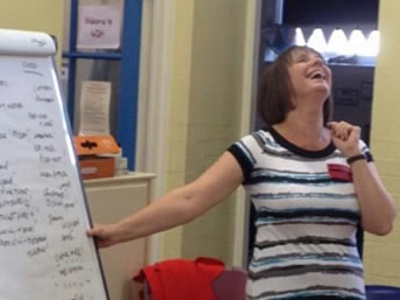 Last minute preparations
Double check with your speaker about any equipment they need. Organise some spare paper and pencils to lend to anyone who has forgotten to bring their own. (There's usually someone.)
Seasons
For a winter workshop, check with the venue to make sure the heating is put on in good time. Organise someone to look after the author when they arrive. You may be too busy to do this yourself.